French aristocrats break free from sect leader
Publié le :
28/12/2009
28
décembre
déc.
12
2009
Oxford-based 'guru' is charged with kidnapping and torture

THREE GENERATIONS of an aristocratic French family have « awoken » from the spell of an Oxford-based guru who is accused of spinning a lurid fantasy to rob them of their fortune.

At least eight members of the Védrines family, aged between 96 and 24, are now said to be ready to give evidence against Thierry Tilly, a self-proclaimed financial genius, master spy and agent of an age-old secret order.

However, six of the Védrines clan, including the 96-year-old matriarch, have insisted on remaining in Britain for now, dashing hopes of a New Year reunion with their long-estranged relatives in France. Two others, including a former consultant gynaecologist who was working in Oxford as a jobbing gardener, have already returned from England to France and have declared they will support legal action against Mr Tilly.

DPauRUSince his arrest in Switzerland in October, Mr Tilly, 44, has been in a prison in Bordeaux facing possible charges of kidnapping and torture. He is said to have convinced the Védrines family – part of the Protestant nobility of south-west France for 300 years – that they belonged to an ancient order called L'Equilibre du Monde (« the balance of the world ») which has the mission of defending humanity from « supreme evil ». From September 2001, 11 of the Védrines barricaded themselves into the family chateau 100 miles east of Bordeaux, some abandoning successful careers.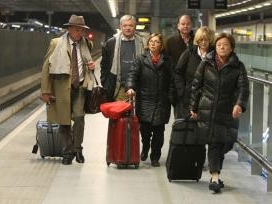 Despite evidence that a €5m (£4.5m) family fortune was being transferred to Mr Tilly, the French police could do nothing until the alleged victims made a formal complaint. From 2006, the family drifted to Oxford – the guru's base – where they lived reclusively and worked in menial jobs, handing over 90 per cent of their wages to Mr Tilly. Three family members had already broken away before Mr Tilly's arrest. Two others, including Charles-Henri de Védrines, 53, the former gynaecologist, have returned to France in recent days and are said to be ready to take part in a lawsuit. The arrested guru's spell was finally broken after « exit counselling » by a psychologist and a Bordeaux-based lawyer and anti-sect campaigner, Daniel Picotin. Mr Picotin has told Agence France Presse that six of the Védrines are to remaining in Britain for now.

Jean Marchand, 58, has fought an almost single-handed battle against Mr Tilly for a decade. His ex-wife, Ghislaine, 55, his daughter, Guillemette, 32, and son, François, 30, are among the six Védrines clan members remaining in Britain.

In September 2001, they abruptly severed all ties with M. Marchand, declaring him to be an « agent of evil ». « It is very disappointing that we could not have been all together again for Christmas or the New Year, » M. Marchand told The Independent yesterday. « Enormous progress has been made but it will be a very slow process before they come to terms with the guilt and shame of having been tricked into wasting part of their lives.

« They have, at least, been rescued from Tilly's mental prison. They can see now who were the baddies in this affair and who were the goodies. But they are not yet willing to leave Britain or to meet me. »

Mr Tilly's spell over the Védrines began to unravel in March. Charles-Henri de Védrines' wife, Christine, fled the group in Oxford and returned to France. She told police she had been beaten and kept in a darkened room. The ill-treatment, she said, was supposed to dredge from her unconscious the location of a « lost treasure » of the Knights Templar (the medieval order of chivalry suppressed as heretics by the French monarchy in 1307). The French authorities this year finally decided that they had grounds to act against Tilly and issued a European arrest warrant for him. He was arrested aboard an aircraft at Zurich airport on 21 October and was rapidly extradited to France.

Source : The Independent le 28/12/09

By John Lichfield in Paris